The people of Trinity Lutheran don't want to be a church that congregates only on Sunday mornings. We strive to be a real community of people who enjoy spending time with each other – with Christ as our center. We love to love each other throughout our lives.
Do you know that Jesus has won forgiveness for you and for the world? If you know that, you know something.  Have you found evidence for God in your family, your healings, your life changes into fruit of the spirit, then you know something. Do you know that God has called you for a purpose to go into the world and present him to others? You know something, and now you are called to share that knowing with others.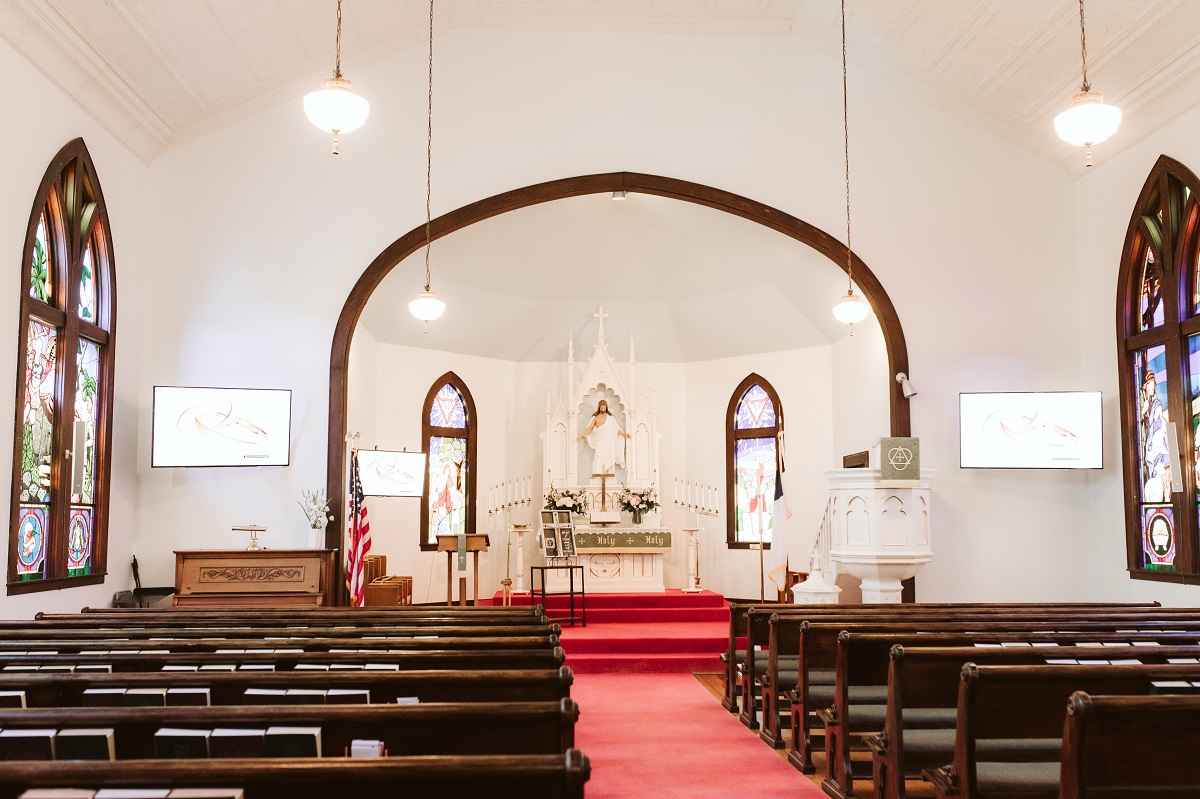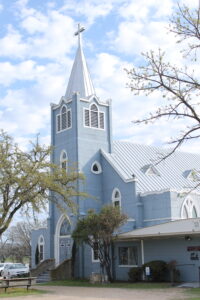 Our church complex sits on 3.5 acres located beside Ranch Road 1 and the Pedernales River, just off Highway 290 in Gillespie County. Stonewall is centrally located between Fredericksburg and Johnson City, and we draw congregants from this whole area.
This congregation traces its history to 1902, when it was organized in the nearby Albert schoolhouse.  A sanctuary was built here in 1904, and our existing structure was erected in 1928. Worship services were conducted in the German language until 1950.  A fine example of the Gothic Revival style of architecture, the church features fine details in its arched window and door openings, Gothic steeple, and original pressed metal siding.  Recorded as a Texas Historic Landmark in 1989, the grounds also encompass our historic cemetery.
The 200-seat sanctuary has beautiful stained-glass windows on both sides and on each side of the altar. We have two video screens for the congregation and one screen facing the pastor's seating. There is an overflow room/meeting area in the educational wing, which includes the pastor's office, secretary's office, three rooms, restrooms, and a full kitchen with video access of the service. The balcony has a choir area, pipe organ, and video controls for the services.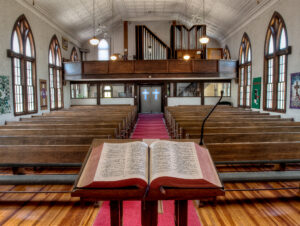 The parsonage is being remodeled and will be completed by Nov. 1, 2021. The main floor consists of a living room, kitchen, restroom, master bedroom, office, and back porch with surrounding windows which serves as the laundry room. The top floor consists of two bedrooms, an open family room, and a bathroom. It also has a great basement for storage, a front porch, and a covered two-car carport with an attached 12'x20' storage building. The parsonage is provided rent free to the pastor and his family, of course.
A fellowship hall was built in 1993 and includes a stage, two restrooms, seating for 150, and a complete kitchen with commercial grade appliances for special events and rental. We have a children's school building for younger children that consists of four classrooms. The original choir hall has been added onto and is used for confirmed student classes and as a quilting room. The cemetery is for church members.